ZAZ
15th July 2022 21:00

friday

Archived
Opening Act: Valami Swing
On the fifth day, our audience can enjoy a concert with the French star ZAZ, mixing a blend of jazz, soul and French chanson. Born on 1 May 1980, the vivacious singer with a charming character was originally called Isabelle Geffroy. She studied music theory, violin, piano, guitar and singing from the age of five, and her musical inspirations include Vivaldi and Ella Fitzgerald.
First she played as a street musician in Montmartre, and later performed in small clubs. Her first band was a blues band, Fifty Fingers , with which she played festivals and small tours, and later joined the Basque variety group Izar-Adatz.
In 2009, she won the Tremplin Génération France Bleu/Réservoir, which made her a household name. In 2010 she released her first album, Zaz, from which the song Je veuxbecame a smash. It topped the charts in France, Belgium and Poland, and she was the most popular French singer in 2010. In 2011 she won an EBBA and then the European Border Breakers Awards, and in 2015 she received an Echo Award for Best International Female Rock/Pop Artist. She has toured all over Europe, but has also performed in Canada and Japan.
Her fifth and latest studio album ISAwas recorded during the pandemic and released in October. ZAZ will visit Veszprém as part of her Organique Tour.
Opening Act
Valami Swing
Opening Act starts at 8:00 pm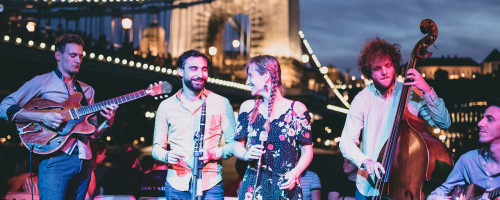 Valami Swing plays jazz manouche, or gipsy jazz. Their style of choice emerged on the streets of Paris in the 1920s, and was shaped to perfection by Django Reinhardt, the brilliant guitar legend. By effortlessly combining American jazz, swing, hot club, chanson, different folk music and traditional gypsy music, he created a unique, European jazz style that is loved by millions even today. The goal of Valami Swing is to nurture and carry on this music tradition.
Katalin Kis – vocals
Dávid Kádár – rhythm guitar
András Makk – solo guitar
István Babindák – clarinet, vocals
Lui Reince – double bass