DIANA KRALL
11th July 2022 21:00

monday

Archived
Opening Act: Varga Tivadar Trió
On the opening day, two-timeGrammy Award winning jazz singer, pianist and composer DIANA KRALLwill take to the stage. The Canadian-born artist is currently the most prestigious female jazz performer in the world. She has visited Hungary five times so far, enjoying resounding success at VeszprémFest in 2013.
During her career, she has sold more than 15 million albums worldwide. Her first album, Stepping Out, was released in 1993, and her fifth one, When I Look in Your Eyes, earned her worldwide success in 1999. The record topped the Billboard's jazz charts for 52 weeks, achieved platinum status in the US and Canada and was recognised with two Grammy Awards.
With her next album, The Look of Love, she continued her international success and reached the top ten of Billboard's Top 200 Albums. In 2009, Billboard magazine described her as the second greatest jazz artist of the 2000-2009 decade. She has recorded 15 studio albums, with her last one, This Dream of You, released in 2020. Having worked with Paul McCartney, Barbra Streisand and Tony Bennett, and constantly touring, she is a celebrated star at major jazz festivals and concert halls around the world.
Opening Act
Varga Tivadar Trió
Opening act starts at 8:00 pm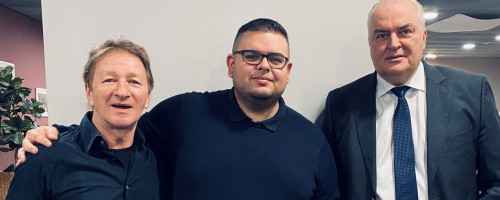 Tivadar Varga, pianist and frontman of the band, has been playing music since the age of 5. He graduated from the Liszt Ferenc Academy of Music in 2018, where he was a student of Kálmán Oláh. The trio formed in 2018. Its members also graduated from the Academy of Music and have participated in several other ensembles. Besides jazz golden oldies, their repertoire also includes Tivadar Varga's own songs, which inevitably leads us to Oscar Peterson, who had a great influence on Tivadar, both on the way he plays the piano and in terms of classic musical impacts. That being said, the trio is also no stranger to groove, drum and bass, and swing music. They lay great emphasis on collective improvisation. The trio have performed at many jazz festivals both in Hungary and abroad, with great success. They plan to finish their first album by 2022.
Tivadar Varga – piano
Ferenc Gayer – double bass
János Weszely – drums