THE GIPSY KINGS featuring NICOLAS REYES
14th July 2022 21:00

thursday
Opening Act: Romano Drom
On 14 July, THE GIPSY KINGSwill get on stage led by flamenco-salsa-pop legend NICOLAS REYES. The iconic Catalan band was formed in 1979 by the descendants of two gypsy familieswho had settled in France, the Reyes and the Baliardo, and their original name in Spanish was Los Reyes Gitanos.Their songs are performed in a mixture of Spanish, French, Italian and Gypsy languages.
The members of The Gipsy Kings have been superstars of the genre since 1988 and have dominated the World Music charts for the past three decades. They have released 13 studio albumsselling more than 14 million copies worldwide. Their platinum album compilation, The Best of the Gipsy Kings,was in the charts for more than a year after its release, and their ninth studio album, Savor Flamenco, won the Grammy Award for Best World Music Album for the second time in 2013.
They have played in every major concert hall in the world, from the Hollywood Bowl to the Royal Albert Hall. They have recorded with Ziggy Marley, the Doobie Brothers and Bananarama. Their hits have featured in several films, including The Big Lebowski and Toy Story 3.
The Gipsy Kings are returning performers of VeszprémFest. Their highly successful concert in 2009 was also a milestone in the history of the festival, which expanded its programme with this performance, the first time it included performers of high-quality popular music styles.
Opening Act
Romano Drom
Opening Act starts at 8:00 pm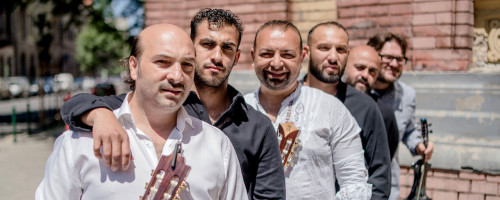 Romano Drom, "Gipsy's Road", perform in the ancient Oláh gipsy language with modern overtones. Founding member, Antal "Gojma" Kovács Sr. passed away 10 years ago, but the traditions are being carried on by his grandchildren joining the band. The unique fusion music of the band, written by Antal Kovács Jr., combines centuries-old music tradition with Catalan rumba, Arab and Balkan pop rhythms, combining, alongside these solutions, the interesting harmony of drums and other instruments with traditional sound. Since its foundation in 1999, the band has travelled the world from Cairo to New York, from South Korea to London, and from Beijing to Oslo. They have toured the Middle East and the Far East, enjoyed several successful concert tours overseas, and they have played in almost every country in Europe.
Antal Kovács – vocals, guitar
József Balogh – vocals, guitar
Antal Máté Kovács – drums, percussion
Péter Bordás – bass guitar
Krisztián Kovács – percussion, dance
Vilmos Seres – accordion, saxophone, clarinet