History
World stars in Veszprém
"One afternoon in the summer of 2002, I was drinking wine with one of my musician friends in a garden in Veszprém. He told me that he had seen Pavarotti in Austria, performing in a cathedral which had room for about a thousand people. He was surprised, that the Maestro gave a concert in such a small place. It is no exaggeration to say that this was the cherry on the top. We had been toying with the idea of bringing an international music and theatrical festival to the Baroque style Holy Trinity Square, the main square of Veszprém Castle, the setting of which had been craving international performances. So we decided to give the title "Pavarotti in Veszprém" to our working idea and write-up thereof. It was not that we wanted to invite the Maestro of Modena by any means, although after the Austrian example, this did not seem like such an impossible idea either. It was because we wanted to express the progressive dimensions of our idea. All this, even in such an early stage, had far exceeded the borders of the city." Zoltán Mészáros Managing Director
These were the first steps towards creating a festival, which does not revolve around a single genre but aims for international quality. We wanted this festival to bring the best performers from opera, jazz, classical, world music and pop to Veszprém year after year. Also aiming at drawing in the lovers of these genres from the vicinity, region, whole country and even the surrounding countries.
Top-class performers who have appeared in recent years include Lisa Stansfield, Gregory Porter, Jamie Cullum, Emeli Sandé, Roger Hodgson, Kool and the Gang, Katie Melua, Vaya Con Dios, Diana Krall, José Cura, Nigel Kennedy, Al Di Meola, Paco de Lucia, Zoltán Kocsis, Richard Bona, Herbie Hancock, Chick Corea, Joe Zawinul, Jan Garbarek, Andrea Rost, Erika Miklósa, The Gypsy Kings, Candy Dulfer, Gilberto Gil, George Benson, Buena Vista Social Club featuring Omara Portuondo, and Craig David to name but a few.
The beautiful Baroque building of the Archbishop's Palace in Veszprém Castle serves as the backdrop and natural setting for the concerts. The venue – far from the hustle and bustle of the big city – greatly contributes to creating a unique, intimate and friendly atmosphere for visitors.
In 2011 the Rosé, Riesling and Jazz Days were organised for the first time as a complementary event, displaying the excellent range of wine and food produced by the Balaton-area winemakers and local artisans, and accompanied by music played by young musicians from the Hungarian jazz scene for those longing for gastro-cultural experiences. The musical programmes of the Rosé, Riesling and Jazz Days are free of charge. The carefully selected programme serves as a worthy complement to the productions on the main stage.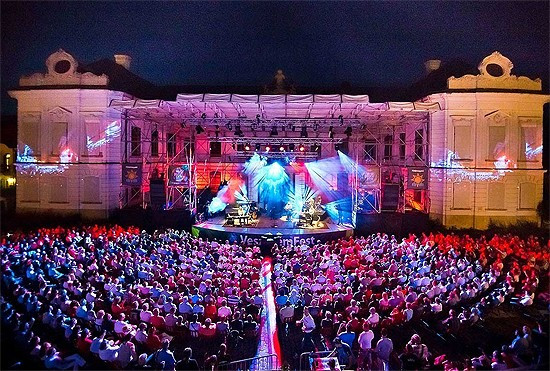 In the period 2011-2014 another accompanying event of VeszprémFest was the programme series organised in the Jesuit Monastery. This uniquely inspiring venue could accommodate 120 people at a time and offered visitors different musically themed programmes from year to year.
Our mission has remained unchanged since the beginning:VeszprémFest should become a musical fortress of world-class musical productions, a home – even if only for a few days – to the stars who are also at home on the world stage and, of course, these few days should increasingly become fixtures in the diaries of festival, culture and music fans from year to year: a few days here in Veszprém that simply can't be missed.