Dee Dee Bridgewater | Irvin Mayfield, Jr. és a New Orleans Jazz Orchestra
17th July 2015 21:00

friday

Archived
Dee Dee's Feathers
Dee Dee's Feathers gives a modern vision of New Orleans painted through the collaboration of New Orleans Jazz Orchestra (NOJO) Artistic Director Irvin Mayfield and Honorary Chairperson Dee Dee Bridgewater. Traditional songs such as Big Chief, Saint James Infirmary, and What a Wonderful World along with new compositions Congo Square and C'est Ici Que Je T'aime will provide a sense of "New Orleans place" through music - weaving a slice of New Orleans' Jazz history and its people.
The Making of Dee Dee's Feather's
Dee Dee Bridgewater
Over the course of a multifaceted career spanning four decades, Grammy and Tony Award-winning Jazz giant Dee Dee Bridgewater has ascended to the upper echelon of vocalists, putting her unique spin on standards, as well as taking intrepid leaps of faith in re-envisioning jazz classics. Ever the fearless voyager, explorer, pioneer and keeper of tradition, the three-time Grammy-winner recently won the 2011 Grammy for Best Jazz Vocal Album for Eleanora Fagan (1915-1959): To Billie With Love From Dee Dee.
Bridgewater's career has always bridged musical genres. She earned her first professional experience as a member of the legendary Thad Jones/Mel Louis Big Band, and throughout the 70's she performed with such jazz notables as Max Roach, Sonny Rollins, Dexter Gordon and Dizzy Gillespie. After a foray into the pop world during the 1980s, she relocated to Paris and began to turn her attention back to Jazz. Signing with the Universal Music Group as a producer (Bridgewater produces all of her CDs), Bridgewater released a series of critically-acclaimed titles beginning with Keeping Tradition in 1993. All but one, including her wildly successful double Grammy Award-winning tribute to Ella Fitzgerald, Dear Ella - have received Grammy nominations.
Bridgewater also pursued a parallel career in musical theater, winning a Tony Award for her role as "Glinda" in The Wiz in 1975. Her other theatrical credits include Sophisticated Ladies, Black Ballad, Carmen, Cabaret and the West End Production of Lady Day, for which Bridgewater received the British Laurence Olivier Nomination for Best Actress in a Musical.
As a Goodwill Ambassador to the United Nations' Food and Agriculture Organization (FAO), Bridgewater continues to appeal for international solidarity to finance global grassroots projects in the fight against world hunger. She also hosts NPR's award-winning weekly syndicated show, JazzSet with Dee Dee Bridgewater (WBGO), now in its second decade on the air.
Irwin Mayfield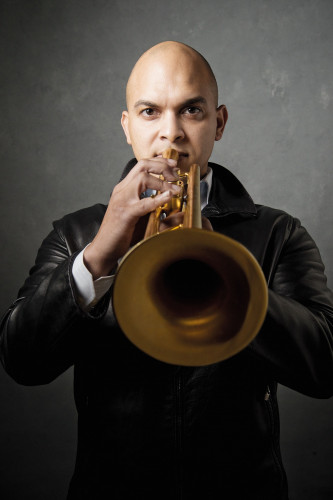 Irvin Mayfield, 36 is a two-time Grammy and Billboard Award-winning artist with 15 albums to his credit. Mayfield is the founding Artistic Director of the New Orleans Jazz Orchestra and currently serves as Artistic Director of Jazz at the Minnesota Orchestra. He is a professor at the University of New Orleans, where he also serves as Director of the New Orleans Jazz Institute.
In 2009, Mayfield entered into a historic partnership with the Royal Sonesta Hotel and created Irvin Mayfield's Jazz Playhouse, which brought "Jazz back to Bourbon Street" in the historic French Quarter. Mayfield was nominated to the National Council on the Arts by President George W. Bush and was subsequently appointed to the post by President Barack Obama in 2010. Mayfield also received The Chancellor's Award from the University of New Orleans (the highest ranking award given to a professor) in 2010 and was awarded an Honorary Doctorate from Dillard University in 2011.
Under Mayfield's artistic direction, The New Orleans Jazz Orchestra won the 2010 Grammy Award for Best Large Jazz Ensemble for its critically acclaimed CD Book One on the World Village/Harmonia Mundi label. Prior to Book One, Mayfield recorded Love Songs, Ballads & Standards with Ellis Marsalis, an early mentor and patriarch of the Marsalis family. The Half Past Autumn Suite, Mayfield's first of several commissions, is a musical tribute to renowned African-American artist Gordon Parks. Commissioned by the New Orleans Museum of Art in 2000, the score accompanied an exhibition of the photographer's work, and was later recorded with Parks, Wynton Marsalis and the Irvin Mayfield Quintet, and released on Basin Street Records in 2003.
New Orleans Jazz Orchestra
The New Orleans Jazz Orchestra creates Jazz to enhance life, transform place, and elevate spirit through the tenants of beauty, truth, and love.
Artistic Director Irvin Mayfield founded NOJO in 2002 as a powerful vehicle for celebrating and advancing the cultural and historical legacy of New Orleans Jazz. The concept came to Mayfield after he created the Institute of Jazz Culture at Dillard University as the youngest member of the faculty. As he looked around the City for a partner in the Jazz Industry, he found that there was no institution committed solely to the business of Jazz or performing it 24 hours a day, seven days a week, in the city that created it.
This led Mayfield to create the New Orleans Jazz Orchestra, designed to celebrate and fortify the American Jazz portfolio while providing infrastructure for developing the New Orleans Jazz Industry. Mayfield assembled a 16-piece band and enlisted NOJO President & CEO Ronald Markham. NOJO had its first performance in early 2003 at Tipitina's.
NOJO made history on November 17, 2005 when they symbolically reopened New Orleans with the performance of a piece composed by Mayfield, All the Saints, at Christ Church Cathedral. This commission served New Orleans as the first major cultural event inside the city post-Katrina.
The New Orleans Jazz Institute (NOJI) in conjunction with the University of New Orleans (UNO), hosts a medley of Jazz education and advancement initiatives, including year-round youth programs providing music education to over 170 students per semester, biannual Jazz commissions, and both classes and lectures about New Orleans culture
NOJO has headlined all of America's major performing arts venues and clubs and produced the first local, ticketed Jazz Concert Series in the history of New Orleans. NOJO's latest album, BOOK ONE on World Village, a subsidiary of the Harmonia Mundi label, won the 2010 Grammy Award for "Best Large Jazz Ensemble." NOJO recently celebrated their 10-year anniversary with The NOJO 10, a series that featured events at Preservation Hall, Tipitina's, the New Orleans Museum of Art, and even New York City's prestigious Carnegie Hall.
Headliners
Dee Dee Bridgewater
Irvin Mayfield
Band
Bernard Floyd - Trumpet
Ashlin Parker - Trumpet
Glenn Hall - Trumpet
Leon Brown - Trumpet
James Williams - Slide Trumpet and Sousaphone
Emily Fredrickson - Trombone
Michael Watson - Trombone
David Harris - Trombone
Khari Lee - Alto Saxophone
Jeronne Ansari - Alto Saxophone
Edward Petersen - Tenor Saxophone
Ricardo Pascal - Tenor Saxophone
Jason Marshall - Baritone Saxophone
Victor Atkins - Piano
Adonis Rose - Drums
Jasen Weaver - Bass
Carl LeBlanc - Guitar and Banjo