Katie Melua
13th July 2019 21:00

saturday

Archived
After 2014, Katie Melua is returning to VeszprémFest in 2019! She is one of the most successful singers in the United Kingdom with her albums selling over 12 million copies, besides 1 million concert tickets and 32 platinum discs.
When Katie, who was born in Georgia, was signed to the Dramatico record label under the management of Mike Batt in September 2002, no one could ever have imagined that by the time her third album Pictures was released, she would be the singer selling the biggest number of albums in the world that year. Her first two albums, Call Off The Search and Piece By Piece, topped the international charts. Her fourth album The House, which was released in 2010, was praised by critics for its amazing sound and described as exciting and dramatic, and occupied top positions in the European charts. In 2011 her band was complemented with a string quartet, and released an exclusive edition of the Secret Symphony album and a digital collection entitled The Tracks That Got Away, featuring B sides and live favourites.
Ten years after her chart-topping debut album Call Off The Search, Katie's sixth studio album Ketevan was released in September 2013, on Katie's 29th birthday. The first single from Ketevan (which is Katie's Georgian name) is "I Will Be There" which was written by her long-time collaborator Mike Batt, and premiered at the Coronation Gala at Buckingham Palace on 11 July.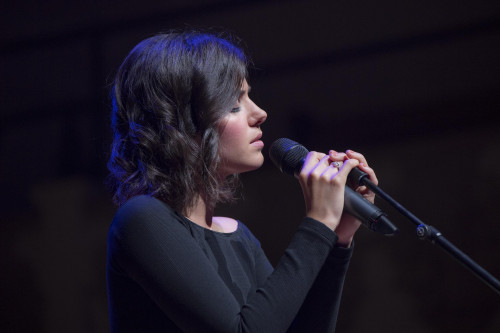 Her seventh album, In Winter, was released in 2016. For this record she travelled back to her native Georgia to record songs with the Gori Women's Choir. Melua ended her creative partnership with Mike Batt with this album.
In addition to her albums, Katie Melua boasts record-breaking tours and many huge moments such as playing on stage for Nelson Mandela together with her music icon, Queen, or performing for and dining with The Queen at Buckingham Palace.
Katie Melua is coming back to Veszprém in 2019 to replicate the success she had five years ago. She will perform her most famous songs, this time accompanied by a 4-member orchestra.
Line-up:
Katie Melua - singer & acoustic guitar
Tim Harries - bass guitar
Mark Edwards – keyboards
Zurab Melua - guitar
Joe Yoshida - drums