Caro Emerald
10th July 2019 21:00

wednesday

Archived
Opening Act: From 8:00 pm: Honky Crew – doors open at 7:00 pm
Caro Emerald is a Dutch singer. Her performing style combines a pop star figure with the appearance of an actress from the Golden Age of Hollywood. Her unique voice and exciting musical world make her one of the most amazing singers of our time. Now 36 years old, at the peak of her career, she will be giving a special concert at VeszprémFest.
Caro Emerald was born Caroline Esmeralda van der Leeuw. Her career began in 2007 when she recorded the song "Back It Up". She performed it one year later on a Dutch TV show with enormous success.
The singer's debut album entitled Deleted Scenes From The Cutting Room Floor was released in 2010. It was a special album: the songs, which were inspired by music and films from the 1940s and 50s, are the perfect blend of ballroom jazz, tango and groovin' jazz sounds with hints of mambo. Deleted Scenes From The Cutting Room Floor was a roaring success. The first song was the biggest Dutch hit in the summer of 2009, and the next single, A Night Like This, immediately peaked at #1 in January 2010. The studio album likewise went to No. 1 in the sales chart, and reached platinum within 6 weeks. It stayed at number one for 30 weeks, beating Michael Jackson's Thriller record in the Netherlands. This music was released in dozens of European countries with similar success, selling almost one and a half million copies.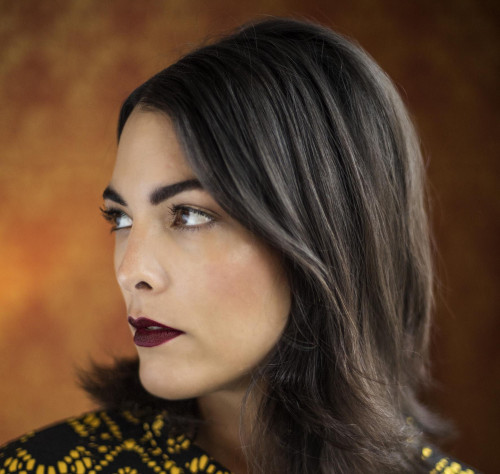 In May 2013 her second album entitled The Shocking Miss Emerald was released, repeating its predecessor's international success and immediately entering at number one in the UK album chart, to mention just one example. Worldwide, over 2.5 million copies have been sold, earning her an Echo Award, a Goldene Kamera, an Edison Award, an EBBA and an MTV Music Award. Besides countless sold-out tours, Caro and her team have also become favourite performers at festivals, playing on stage at Glastonbury and at the Isle of Wight Festival to name but a few.
Caro Emerald will perform her current concert programme in Veszprém, reaching back to her first album, and offering an exciting mixture of ballroom jazz, tango and groovin' jazz from the 1990s.
Line-up:
Caro Emerald - singer
Stephen Large – keyboards
Wieger Hoogendorp - guitar
Jeroen Vierdag - bass guitar
Rémon Hubert - drums
Claus Tofft - percussion
Benjamin Cummings - trumpet
David Temple - saxophone
Opening act
Honky Crew
Opening act from 8:00 pm: Honky Crew – doors open at 7:00 pm
What do you get when you put together an electro swing DJ and a drummer with experience in vintage genres? In this case, an electro swing super group!
Honky Crew, led by Ordiman and László Tamási, is a brand new concept. The DJ and drummer song-writing duo shows us the best of electro swing as part of a stage show featuring spectacular visuals linked to the music via LED screens and projectors. The show, including original songs and remixes, promises great entertainment: an inspiring and fun live show with dance music, live drumming and a DJ.
Ordiman is Hungary's best-known electro swing DJ, producer and songwriter. He has made remixes for many Hungarian and international performers while his own songs are recognised internationally in this scene. You will see him at most festivals and clubs, and his name guarantees a good night out. A member of Stereo Swing, he has showcased his talent at various Hungarian and international festivals and events.
László Tamási drummer, songwriter, producer. An indispensable member of Mystery Gang in the past ten years, the drummer has been to festivals and clubs all over the world from the MÜPA in Budapest to smaller stages, from New York to Milan. He is the founding songwriter and producer of the electro swing band Stereo Swing. For this achievement, he was nominated for a Fonogram Award in 2018. His songs have featured on compilation albums and other discs of foreign publishers in the UK, Germany, Austria and Canada, and some of his compositions can also be heard on Gabi Szűcs's latest solo album.
Honky Crew's first official EP entitled Back to the Old School and containing two songs was released on 1 October 2018.
Line-up:
Ordiman – DJ
László Tamási – drums