JAMES BLUNT
16th July 2022 21:00

saturday
The closing day of the festival will feature a concert by British superstar JAMES BLUNT. The singer will perform in Veszprém as part of his European tour The Stars Beneath My Feet, which starts in February 2022.
Although he learned to play several instruments as a child, Blunt was pressured by his parents to join the military. He served in the British Army, where he rose to the rank of captain before his discharge in 2002.
His first album, Back To Bedlam, was released in 2004, and its song You're Beautifulimmediately made him a superstar. The song won, among other things, two British Music Awards, two Ivor Novello Awards and five Grammy nominations, and the album topped the charts in 16 countries at the same time.
His second album, All The Lost Souls, was released in autumn 2007, which received Gold record status as early as the first week of release. The first single from the album, 1973, entered the Billboard global charts at number one in the month of its release.
His musical influences included Fleetwood Mac, David Bowie and Elton John, the latter of whom personally invited him to perform on his 2004 tour. Throughout his career, he has performed hundreds of concerts in Europe and North America, and has appeared on numerous television programmes from The Oprah Winfrey Show to Saturday Night Live.
He is hugely popular on social media, with 5.5 million followers on Facebook and 2.4 million subscribers on YouTube. On 17 February 2016, he received his "Doctor of Music" honorary degree from the University of Bristol
His albums have sold 23 million copies, and his new greatest hits album, The Stars Beneath My Feet(2004-2021), will be released in November.
Opening Act
Ruby Harlem
Opening Act starts: 20:00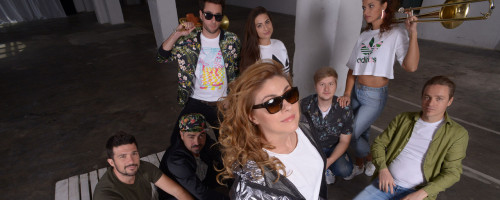 Ruby Harlem is one of the most intensively developing Hungarian indie-soul-pop bands. The Budapest-based, Fonogram Award-winning band, formed in 2017, regularly plays concerts and releases new, fresh and energetic songs one after the other. Founder and creator Szandra Iván, singer-pianist and songwriter, absorbed life by travelling to many countries of the world, and is now sharing these experiences together with her band of 8 professional musicians in an unusual, yet effortless way. The songs written in Hungarian are vocal-centric, and further enriched by the enticing sound of the brass section, forming a whole with the string rhythm section.
Szandra Iván – vocals, piano
István Siklai – bass guitar
Dorothea Hildebrand – vocals
Attila Eőry – vocals
Nóri Varga – trombone
Gábor Subicz – flugelhorn, trumpet